Velas Turns 4: A Journey of Innovation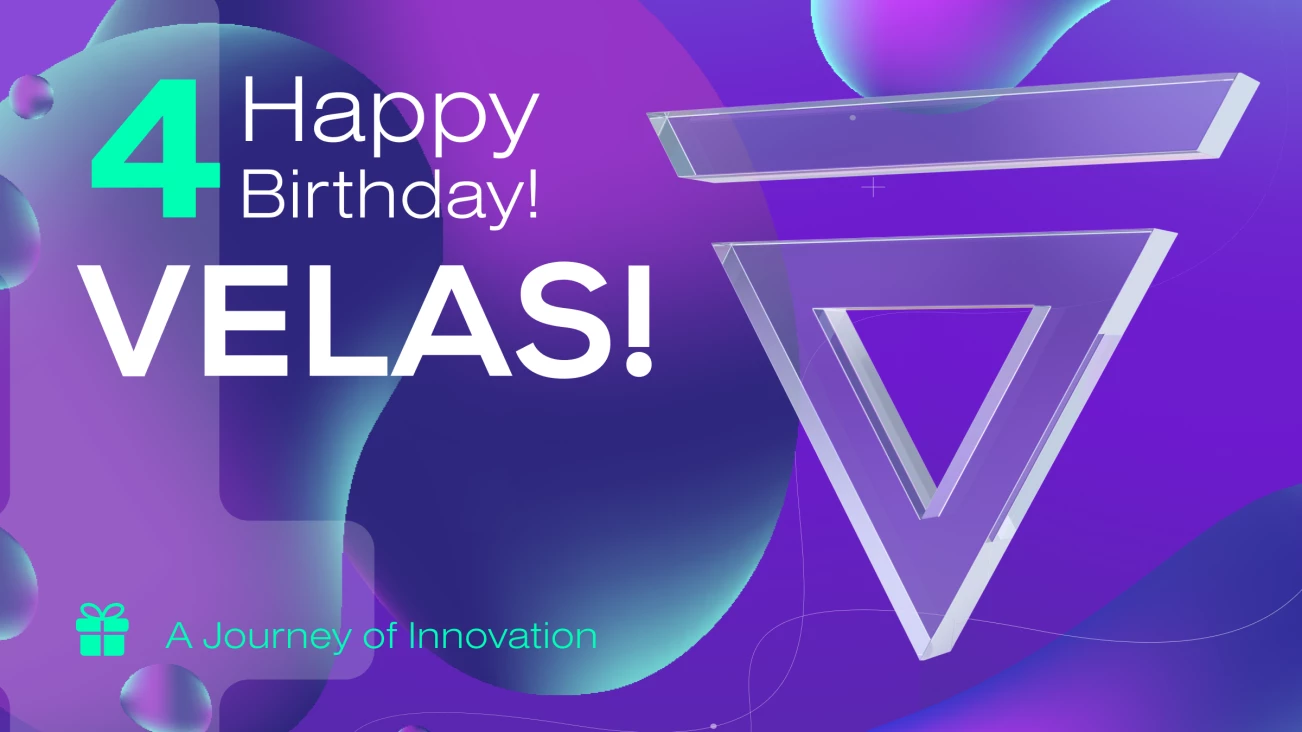 Marketing 4 min reading

More from Velas
Marketing, Technology 1 min reading
A Confluence of Blockchain and the iGaming Industry
Dive into the dynamic merger of blockchain & iGaming! 💡 Explore how this tech fusion is reshaping our virtual realms. Ready to level up? Click to unravel! 🔗🕹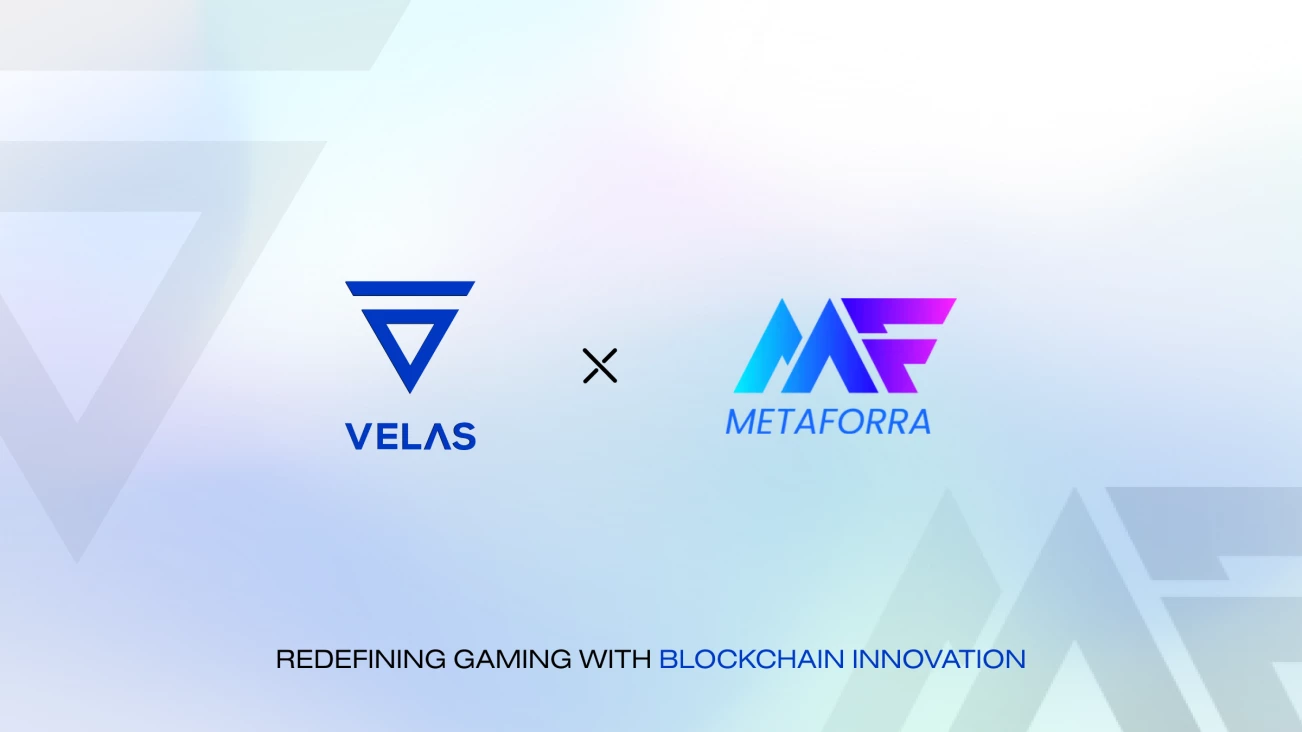 Marketing 1 min reading
Velas and Metaforra Unite to Revolutionize Gaming with Blockchain Integration
🎮 Velas & Metaforra merge forces for a game-changer in the industry! Discover how blockchain is reshaping gaming. Dive in NOW! 🔗🔥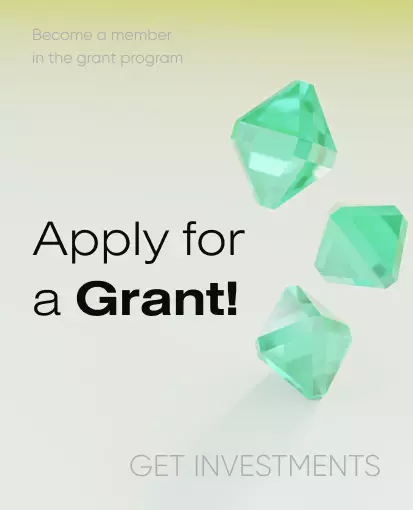 Dear Velas Community,
Today, we gather to celebrate a significant milestone in the history of Velas. It is with heartfelt gratitude that we extend our warmest thanks to each and every one of you who has been part of our incredible journey from the very beginning. Your unwavering support, dedication, and belief in our vision have been the driving force behind our success.
We would also like to express our gratitude to the industry and all the people who have played a role in shaping and nurturing the blockchain and cryptocurrency ecosystem. Your contributions, partnerships, and collaboration have been invaluable in helping us grow and thrive.
A Retrospective of Favorable Moments in Velas' History:
Jan 31, 2020: AI-powered Velas Launches Its Decentralized Multi-Currency Wallet: We proudly introduce our decentralized, no-backend, multi-platform wallet that is mnemonic-based, lightweight, and optimized for third-party integrations.
Sep 17, 2020: Velas Named in Top 50 Blockchains in Switzerland Sector: We were honored to be listed among the top 50 organizations in the "..." sector of the CV VC Top 50 report, recognizing our contribution to the diverse blockchain and cryptocurrency ecosystem.
Dec 7, 2020: Velas Becomes a Payment Method on Travala Travel Booking Platform: Our partnership with Travala allowed users to seamlessly use the Velas token (VLX) for travel and accommodation bookings, enhancing the adoption and utility of our digital currency.
Oct 2, 2021: Velas Becomes the Official Protocol Partner of the Swiss Blockchain Hackathon: We took great pride in being named the official Protocol Partner of the largest Swiss Blockchain Hackathon, further solidifying our commitment to innovation and collaboration.
Nov 15, 2021: Velas Enters the World of Motorsport NFTs with GPNFTS Partnership: Our collaboration with GPNFTS marked our entry into the exciting world of motorsport NFTs, leveraging the power of our energy-efficient blockchain platform.
Nov 18, 2021: VLX Token Listed on KuCoin and Gate.io: We expanded our presence in the cryptocurrency exchange landscape by making VLX available on KuCoin and Gate.io, providing our community with more avenues for trading and liquidity.
Nov 26, 2021: Velas Featured on 'Behind the Scenes' with Host Laurence Fishburne: We had the privilege of being featured on the award-winning educational TV series, shedding light on the evolution of the blockchain and fintech industry.
Dec 27, 2021: Velas Powers into Formula 1 with Scuderia Ferrari Partnership: Our partnership with Scuderia Ferrari in Formula 1 marked a significant milestone, showcasing the speed, innovation, and energy efficiency of the Velas blockchain platform.
Jan 3, 2022: VLX Listed on Huobi Exchange: We were excited to announce that the VLX token became available for trading on Huobi, one of the leading cryptocurrency exchanges, expanding our reach and accessibility.
May 18, 2022: VLX Token Listed on BitForex: We continued to enhance the trading options for our community by listing the VLX token on BitForex, providing a secure and convenient trading experience.
Jul 12, 2022: Velas Conducts First Successful Blockchain Operation in Space with SpaceChain: Our collaboration with SpaceChain allowed us to achieve a groundbreaking milestone by conducting a responsive transaction remotely from Earth's orbit.
Aug 8, 2022: Velas Becomes Carbon Neutral: We proudly became a carbon-neutral blockchain, contributing to the fight against environmental pollution by saving 126 tonnes of CO2 emissions.
Sep 8, 2022: Velas Integrates with DIA: Our integration with DIA, one of the top blockchain oracles, set the stage for streamlined Web3 adoption and further advancements in decentralized applications.
Oct 20, 2022: Velas Expands Blockchain Operations to the International Space Station (ISS): Building on our success in space, our partnership with SpaceChain propelled us to extend our blockchain operations to the ISS, opening up new horizons for our technology.
Jun 12, 2023: Velas Unveils Strategy for Success and Blockchain Growth: In a significant announcement, Velas unveiled its comprehensive strategy for success and blockchain growth. This strategy encompasses insights into future technical advancements, development plans, marketing initiatives, and other improvements, solidifying Velas' commitment to innovation and continued progress.
Jun 16, 2023: Velas Partners with Zealy to Empower Thriving Communities: Our integration with Zealy introduced exciting quests, leaderboards, and expert role management, creating a more vibrant and interactive community experience.
As we reflect on these moments and countless others, we are filled with a deep sense of pride and gratitude. Together, we have achieved remarkable milestones, forged valuable partnerships, and continued to push the boundaries of innovation in the blockchain industry.
We are excited for what the future holds for Velas as we embark on the next chapter of our journey. None of this would have been possible without your support, and for that, we extend our sincerest thanks.
Happy 4th Birthday, Velas!
Warm regards, The Velas Team
Stay
ahead

of the curve

Add your email to get hand-tailored messages only. We say no to boring newsletters and spam!